Canada Connects – 2019 Fall Design Show and Workshop
Join us October 20th at Ontario Flower Growers in Mississauga, ON for our 2019 Fall Design Show and Induction – Canada Connects! Our very own, Lea Romanowski CAFA AIFD, will be our featured designer. She'll inspire and delight with a truly Canadian Floral Art and Design Experience. Attend the workshop on Monday, October 21st to get hands-on experience with Lea. The Fabulous Neville MacKay CAFA will be our Master of Ceremonies.
Come and be inspired, buy your tickets now. The Canadian Academy of Floral Art is very excited to be able to offer online ticket sales this year!
The show doors open at 2PM, it starts at 3PM and goes to approximately 7:30PM.
The workshop doors open at 8AM for breakfast and it runs until approximately 4PM. Lunch will be served around the mid point.
Design Competition 2019 – Dedicated to Norman Disch
The floral design competition is on again this year. Create a bridal bouquet using only greenery. Entry is open to all ticket holders. Choose the option at check-out and we'll email you the sign-up form.
1st Prize: $250 | 2nd Prize: $150 | 3rd Prize: $100 | Plus other goodies!
Who was this man, Norman Disch AIFD CAFA, and why many years after his passing, why does he still have such a profound impact on the floral industry? He was a truly gifted designer; one of Canada's best, who insisted on neat, clean mechanics and attention to detail but could also create a piece of art out of the most mundane materials. Much more than that though, he was so willing to share his talent with everyone but especially the newest members of the industry. Norman was instrumental in establishing a floral design program at Seneca College that sent qualified designers out into the floral world with everything they needed to build a successful career. Seneca College still does that because of Norman's insight decades ago. He brought the students to the symposium of AIFD by insisting that they accept "foreign" students at The National Symposium Student Competition. Seneca College still sends competitors each year and in 2017 in Seattle, WA, we brought home two major prizes.Norman would have been proud! When CAFA was in its infancy he offered invaluable advice and guidance and became our first Founder. Norman was mentor, teacher, advisor and friend to so many of today's top designers. He was truly a legend.
Refreshments
Delicious food and beverages will be served around the midpoint of the Design Show. There will be time to mingle and network while checking out the Trade Fair tables.
Breakfast and Lunch will be served during the Workshop on the 21st.
End of Show Auction
Bring your shop van or larger vehicle and fill up on the great deals we'll be offering at the auction following the show.
Ticket Pricing
Full price ticket – $95 * Early bird special price, before Sept 15 – $85
Cafa members $75
Group price- 5 tickets for $400
Workshop $350
Workshop and show combo ticket is $400
Order online below. Cash tickets will be available at the door. All tickets are final sale.
Featured Designer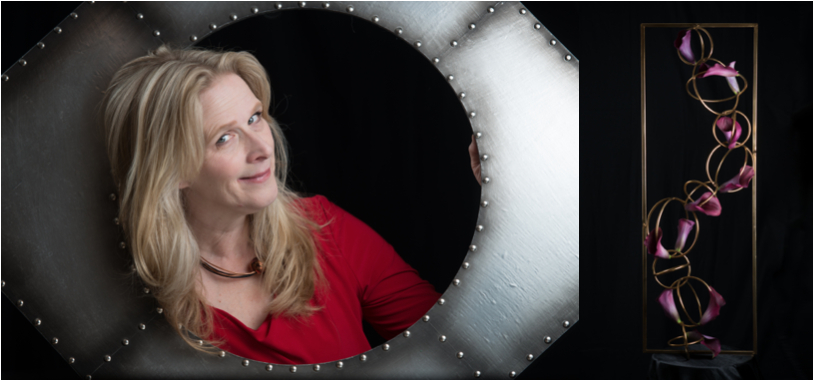 Lea Romanowski CAFA AIFD CAFD CFD found her way into the floral industry literally by accident. While working a summer job driving a coffee truck to oil patch companies she was involved in an accident.
Still needing a job, her then boyfriend's family owned a flower shop and were hiring! Her career path of Architect or Paramedic was immediately diverted to the floral industry without looking back.
Fast forward 35+ years later. Lea is the owner and lead designer of Designing on the Edge in Calgary Alberta, Canada 2000 to present Mount Royal University design instructor 2002 to present Working on part 2 on the EMC certification, set to finish in 2020.
Lea is currently involved in curriculum development, product testing, workshop facilitation and designing/writing "HowTo" instructions to share with the industry.
She is serving a second term on the CAFA board of directors and is a past director for Flowers Canada.
Career Highlights
Maple Leaf Cup Winner 2017, Runner up 2018, 3rd place 2016 and Judge 2019 respectively
1988 Olympics Assistant to the Floral Coordinator
Juno Awards designer 2008, 2016
Recipient of Canadian Academy of Floral Art's Design go Distinction Award
Winner Florists Supply Top Designer competition
Recipient of 4 Bronze awards from Fusion Flowers International Designer of the year competitions
Winner of 2 International Special Events Gala awards for table design
Canadian Business Chicks "Woman of Inspiration" Lifetime Achievement award.
Design work has been published in local, national and international publications.
Keynote speaker, presenter, judge for North American Lily Society, Foothills Orchid Society, Calgary Rose Society
Member of the World Flower Council
You'll find Lea singing, dancing and laughing wherever she happens to be designing.